SXSWedu 2014
I was thrilled to present at SXSWedu 2014 on the Digital Corps: A Model for Midwest Student Success. The description from the SXSWedu program:
Entering its 6th year, the Ball State University Digital Corps brings west coast startup culture to higher education. We create apps, videos, and other artifacts. But, we see our product as students. Digital Corps students are well prepared for innovative and creative careers. The university benefits from constant internal disruptive innovation. Businesses benefit from close interaction with future graduates. This presentation outlines the model so that you can apply it at your institution.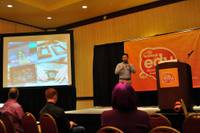 I also represented Higher Education at the Adobe Creativity in Education Meet Up.